Previously Used Machines & Equipment
PREVIOUSLY USED MACHINES & EQUIPMENT
Adams Machinery was founded in 1967 by Ollie Adams and has been serving the metal working community of Arizona and New Mexico ever since. In 1991 Richard Short purchased Adams Machinery and has been operating in Tempe, Arizona.
Used Cosen AH-250R Automatic (Roller-Type) Horizontal Band Saw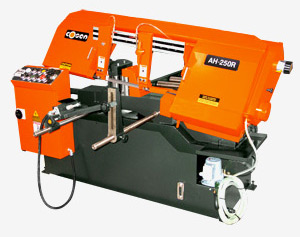 Used – COSEN MODEL AH-250R Automatic (Roller-Type) Horizontal Band Saw
Price new Nov 2013 $12,895.00
Sale Price – $10,500.00
The AH-250R is a large capacity; compact size machine requires less floor space when compared to other machines with the same capacity (10″). Featuring power roller feeding, hydraulic powered saw head, and infinitely variable blade speed, this economical automatic band saw is an excellent choice for a diverse job shop. Attachable Heavy-duty Roller Stock Table (3'3″), Variable Stepless Pulley Drive.
Machine Specifications
Maximum Cutting Capacity: Round
Blade: Speed Variable
Guide: 95-321 fpm
Motor: Saw Blade
Weight: 1,540 lbs.
Power: 230, 3 ph, 60Hz
Shipping Dimensions: 72" x 47" x 45"
Floor Space: (L x W x H) 73″ x 35″ x 41″
Bed Height: 25.2" (640mm)
Over 50 Years of Experience and Service!
You can depend on Adams Machinery for assistance in determining what machine will best fit your needs.