SWISS SCREW MACHINES
A screw machine is a small to medium-sized automatic lathe that is mechanically automated via cams.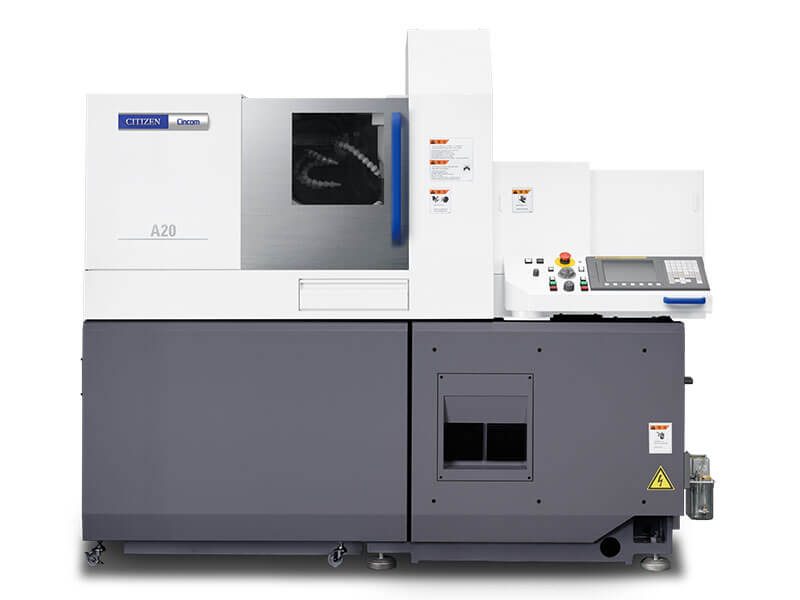 Acclaimed for its excellent cost to performance ratio, this next generation A20 has evolved as a 5-axis machine (plus C1 & C2 as MCC standard) for ∅ 20 mm applications, with the advantage that it can be used with or without the easily mounted and removed guide bushing.
The high speed 10,000 rpm spindle enables optimized machining operations on smaller diameter bar material. The machining length per chucking is now extended to 200 mm enabling the number of re-chuckings and therefore cycle times to be reduced when machining long workpieces. As an option, bar material up to ∅ 25 mm can be machined extending the range of work pieces.
With its Fanuc Series 32i Model B System Control, the A320 offers quick setups and high speed, high precision performance. And with the additional X2 axis, front/back simultaneous machining is possible.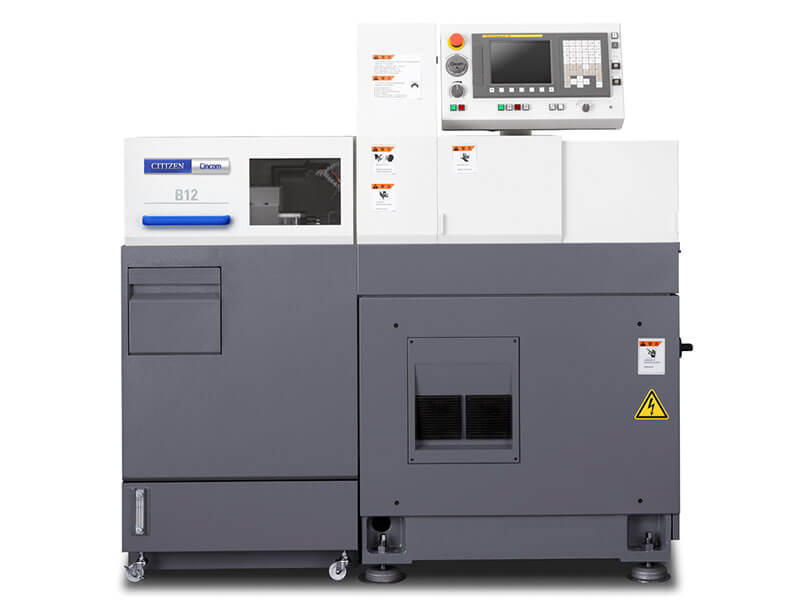 In addition to the 5 turning tools, the B12VI also comes with 3 live cross tools and 4 front/back ID tools. This is the standard machine for the US market.
Reduced Machining, NC Operation and Tool Replacement Time
Multi-axis control system for extremely fast data processing
All operations directly controlled by the NC using a completely electronic full servo system
Machining with higher precision is assured even in lengthy operations without being affected by the thermal displacement of a ball screw
A built-in servo motor with an integrated ball screw realizes high speed, fast response operation of the feed system
Tool layout not constrained by machine structure reduces setup and tool replacement times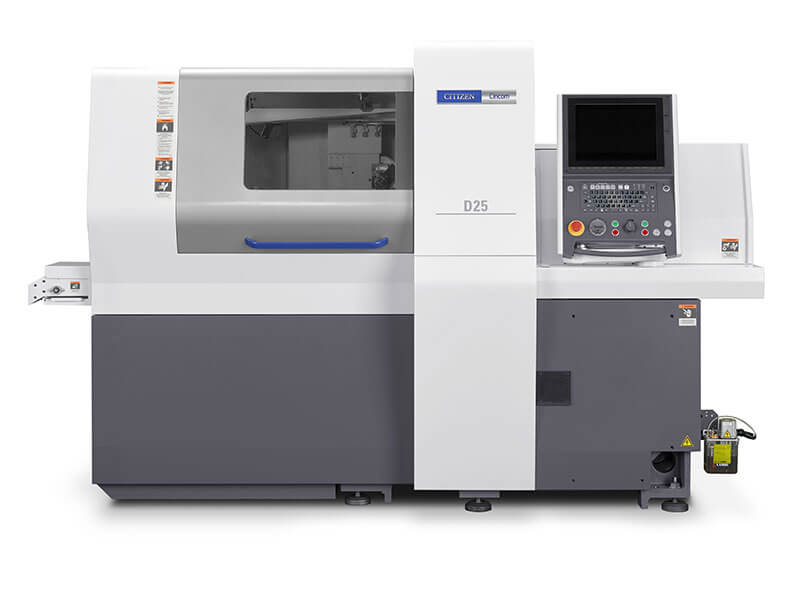 Introducing Citizen's newest development, the D25, equipped with double gang tool posts and B axis. The double gang layout enables short cycle times for high productivity at low part cost. The large number of tools, for both main and sub spindle, provides cost effective production of complex workpieces.
Next generation CNC system with touch screen and qwerty keyboard. Ready for IoT (Internet of Things)
Easy set up with on screen graphical prompts
3 x Y axis, 3 x Z axis
B axis for front-back machining
Independent adjustable angle rotary tools to sub spindle
Power and speed: 5.5 kW and 10,000 rpm
With/without guide bushing – switchable operation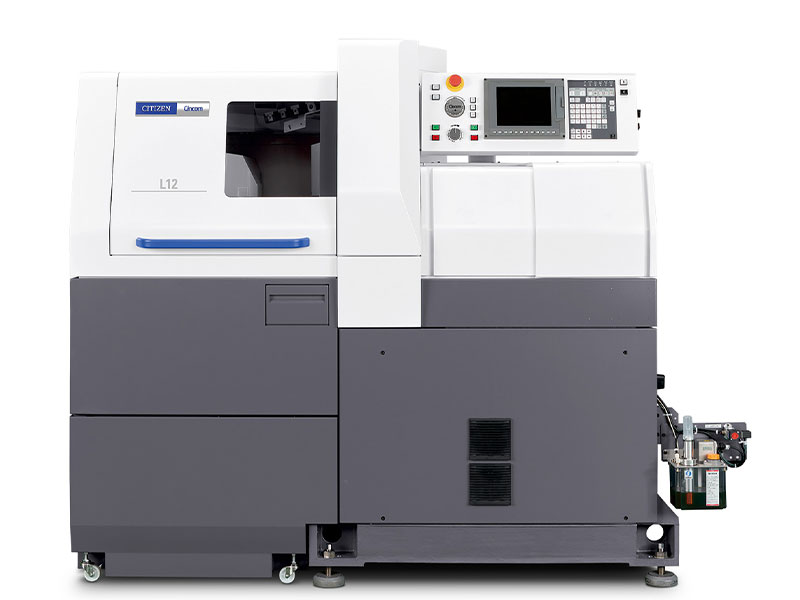 The Cincom L12 type VII is a state-of-the-art Swiss Turning Center featuring the ALL axis Simultaneous Cincom System M7 Control (Mitsubishi Meldas 70LPC). The user-friendly editing function, which utilizes multi-line multi-axes programming along with superimposed and synchronized control, makes setting up the most complex jobs easy.
The L12 is equipped with a detachable guide bushing as standard. This allows the machine to be used as a regular guide bushing type automatic lathe for long and small diameter workpieces. Once the guide bushing is removed, it can be used to machine short workpieces with less material waste.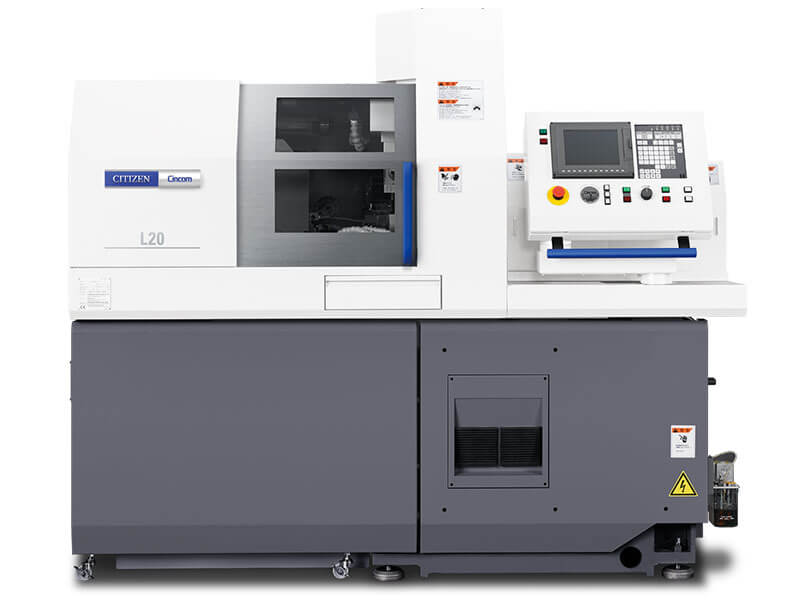 A machine synonymous with the history of Cincom has been designed for the new age with 3 models in a modular design. Ranging from a 5-axis machine with excellent cost performance to a high-end machine equipped with B axis and a back spindle Y axis, you can select the machine according to the functions you require.
This concept offers unrivaled versatility – two types of gang tool post, five types of opposite tool post and three types of back tool post are available to be specified according to the functions required.
Each model can be specified to deliver the functions you need: from simple to complex workpieces and for small, medium and large lot sizes.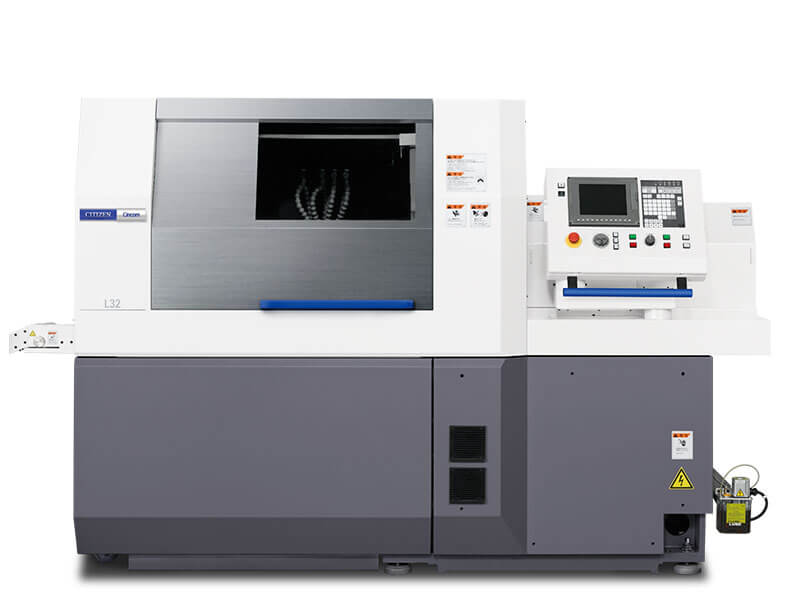 With a legacy as one of the best-selling Cincom machines, this next generation L32 is launched with 3 models in a modular design.
Ranging from a 5-axis machine with excellent cost performance to a high-end machine equipped with a B-axis and back tool post Y-axis, you can select the machine according to the functions you require. A wide range of modular tooling ensures that the L32 is both versatile and flexible to meet your production needs well into the future.
The L32 series features the ALL axis Simultaneous Cincom System M70 Control (Mitsubishi Meldas 70LPC) and boasts a user-friendly editing function which utilizes multi-line, multi-axes programming along with superimposed and synchronized control. In addition, one bar loader axis (A7) can make easy work of your toughest applications.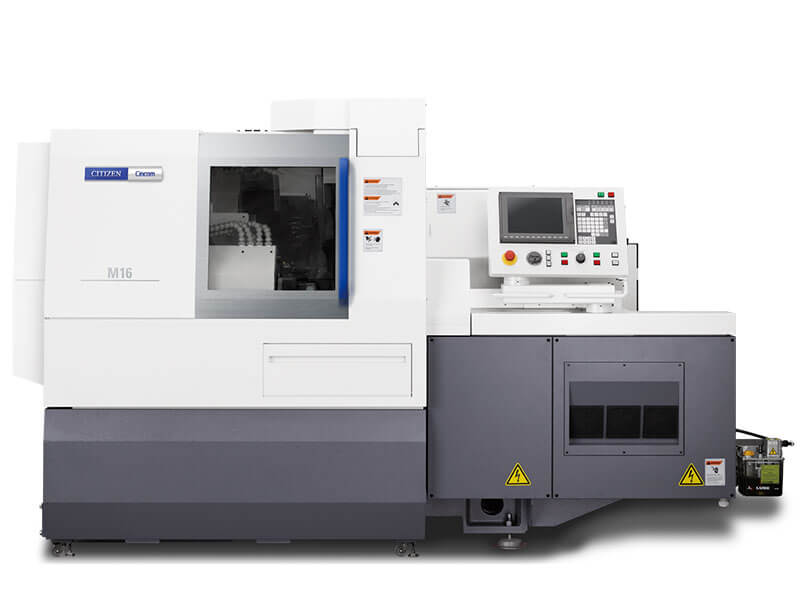 Features
Shorter production cycles with no loss of precision and versatility
Live tools at any turret location, and 3 gang locations
Indexing by high speed servo
Y axis gang tool motion
Extra Axes for Precision and Versatility
13 programmable axes
A axis for robotic arm, workpiece pick-off, in-process gaging, automatic tool measurement and more
Front and back work performed simultaneously
Designed for Maximum Convenience
Low turret position and 45° slant improves accessibility
PC-based CNC controller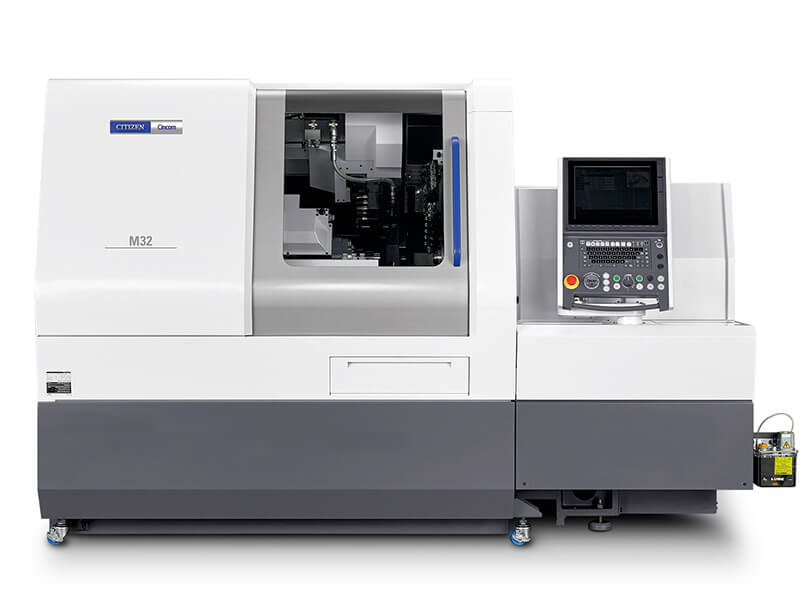 As the successor to the original M32 with Y axis to the gang tool post, the new:
M32 type III now has the capability of an angle adjustable 3-rotary tool holder on the gang tool post
M20 type V has a Y2 axis to the turret
M32 type VII adds the new Y3 axis
M32 type VIII has all three Y axes and the B axis.
Benefits of Screw Machines
24 Hours a Day Continued Usage Abilities
Programmable Allowing for Unlimited Replications
East Software Updates and Maintenance
Once Programmed, Machine Requires Little Supervision
Exact Component Manufacturing Specifications
Over 50 Years of Experience and Service!
You can depend on Adams Machinery for assistance in determining what machine will best fit your needs.